About Yes Atlas
Yes Atlas is a young motivated educational consultant agency. We are a team of professional people who are keeping up with the modern world and up to date trends and technologies. The agency was established and founded in July 2009 by Mr Haitam Giat and partners, who got his first degree from an established Australian university and he is familiar with different study systems. Since then the agency is growing rapidly to meet the market needs with sophisticated means to grow and provide wider services to the Middle East students. We have different offices spread in different regions in Saudi Arabia and UAE. Our policy is opening two new branches each year in the Middle East and North Africa to target extra markets, for the service of our students and our educational partner.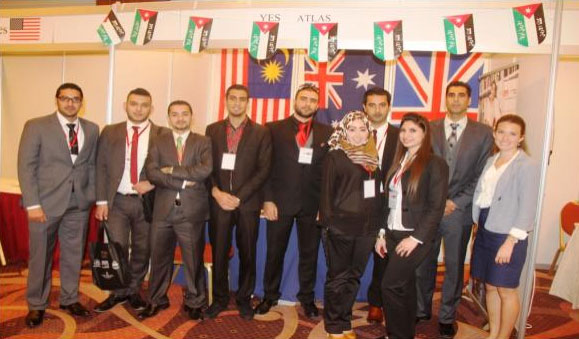 Technology
Our agency is an IT oriented, we had built a sophisticated CRM system for our needs, maintaining the s data of our students, ,information about educational providers, accommodation , visa applications and other important information, that we can access securely anywhere using the internet.
Our public website provides wide range of information in Arabic about studying abroad for our students. The students can apply online and upload there details and documents online before they visit our offices.
Marketing
We also keep up with modern and up to date marketing trends and tools, spending around $150,000 annually on marketing such as paid media mainly Google and Facebook other social media and educational blogs, at the same time we participate with educational events and fairs that improve our team knowledge and enlarge our educational providers network such as ICEF and NAFSA, keeping in mind our main strategy which is providing a wide access and service to our students and promote our educational partners.
Our vision
We look forward being the leaders in the Middle East, spreading our network to cover all of Arabic speaking countries by providing excellent, up to date and tailored services to our versatile range of students in various areas and sharpening our professional knowledge and understanding of different educational systems in different countries.
Our Market
We work with sponsored and self-funded students and understand the needs, difficulties and challenges of each group. Our students' topography divides between the two groups, where we have 60% of self-funded students, while the rest are sponsored students, including government sponsors and private sponsors such as universities, work places, agencies, companies, etc.., among the list of sponsors you can find students sponsored by King Saud University which we provide them with a special service, same goes for SADFA (Saud Drug and Food Authority) and others.
We are active in different countries providing services to our Middle East Arabic speakers by placing them in different countries for educational purposes. Our main educational market targets English speaking countries that include but not limited to: USA, Canada, New Zealand, Australia, and UK. At the same time we are targeting other markets and we do provide other services as placing students for language training in Turkey, Malaysia, Germany and others. We seek to open a new branch and a new market each year.